Der first-Forschungsverbund Migration  war  auf der vom 4.-7. April 2018 stattfindenden hochkarätigen Tagung "European Social Science History Conference" vertreten: Anne Unterwurzacher (Zentrum für Migrationsforschung), Leiterin des FV-Migration und Forschungsmitarbeiterin Jessica Richter (Institut für Geschichte des ländlichen Raumes) organisierten das Panel "The Making of Nationalised Labour Markets. Restriction and Regulation of Labour Migration vs. Everyday Practice in the 20th Century". Sie selbst präsentierten dem internationalen Fachpublikum ihre Ergebnisse aus dem Forschungsverbund: Anne Unterwurzacher sprach über "Thirty Foreign Workers needed Immediately": the Austrian "Guest Worker"-Scheme in Practice – a Case Study (1962 – 1975)" und Jessica Richter über "Nationalising the Agricultural Labour-market: Struggles over Migration Policy in Austria (1919-1938)".
Josef Löffler (Institut für Realienkunde des Mittelalters und der Frühen Neuzeit), ein weiterer Mitarbeiter des Forschungsverbundes Migration, präsentierte seine Forschungsergebnisse im Vortrag "Material Culture and Consumption of Austrian Aristocrats in Religious Exile in the 17th Century."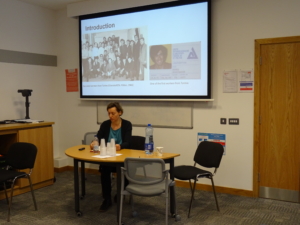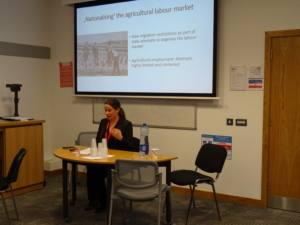 Sarah Pichlkastner, ebenfalls vom Institut für Realienkunde des Mittelalters und der Frühen Neuzeit, sprach als Vertreterin des first-Forschungsverbundes "Nahrung und Ungleichheit" über "Healthy Food in Hospitals? The Diet of Inmates in Early Modern Welfare Institutions in Vienna and Lower Austria".
Weitere Informationen:
https://esshc.socialhistory.org/esshc-user/programme?day=58&time=189